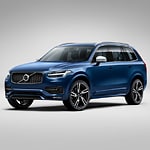 When looking for a luxury SUV, you'll likely come across the popular Volvo XC90 R-Design. During that process, you'll appreciate the robust features offered by this performance vehicle.
Power-Operated Contour Seats

As you can probably imagine given the outstanding reputation of Volvo, the XC90 R-Design has contour seats that are of exceptional quality. They support the driver by facilitating optimal positioning. Adjustments can be easily made for maximum comfort.


Read More