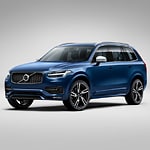 When looking for a luxury SUV, you'll likely come across the popular Volvo XC90 R-Design. During that process, you'll appreciate the robust features offered by this performance vehicle.
Power-Operated Contour Seats

As you can probably imagine given the outstanding reputation of Volvo, the XC90 R-Design has contour seats that are of exceptional quality. They support the driver by facilitating optimal positioning. Adjustments can be easily made for maximum comfort.

Attractive Alloy Wheels

?The exterior of the Volvo XC90 R-Design is striking. This is partly because of the 20-inch alloy wheels that further enhance the sporty design. It's a finishing touch that makes you proud to drive an SUV with such incredible attention to detail.
Do you think the Volvo XC90 R-Design is a good fit for you? If so, you'll enjoy taking it for a test drive. This will allow you to see exactly how it feels on the road. You can do that here at Volvo Cars of Vestavia Hills.