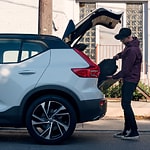 When you try to think of a cool vehicle, what comes to mind? While we here at Volvo Cars of Vestavia Hills doubt it's the same for you, one of the latest vehicles to impress us in terms of both style and function is the Volvo XC40, a subcompact SUV from the European manufacturer.
This Volvo vehicle is packed full of features that not only improve its overall functionality and usability, it also has some features which are clearly just for style points. A good example of a feature that does both would be the XC40's standard illuminated door handles, which not only make it easy to locate the handles in the dark, but look pretty cool at night as well. The XC40 also features aerodynamically designed roof rails with an aluminum finish, to add personality and reduce drag on the cargo holding system.
If the Volvo XC40 is calling your name, then come by Volvo Cars of Vestavia Hills for a test drive when you can!